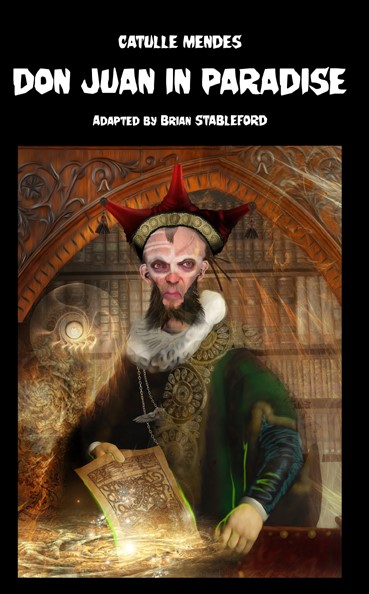 This volume is one of a set of three collections assembling a substantial fraction of the short fantastic fiction of Catulle Mendès (1841-1909). It assembles more than eighty contes, fables and apologues employing supernatural motifs

The light-hearted flippancy of the majority of the stories collected here has its own heroic dimension in blithely sacrificing the copious resource of narrative energy to be found in the Devil's works in order to focus much more extensively on the kindly ministrations of angels, Eros and other benign figures. It is a testament of Mendès' ingenuity that the sacrifice in question was not a costly one, permitting him to maintain a level of productivity that few writers of his era could match.

Whimsy might look easy to a reader, but it is not nearly as easy for an author. Few writers have ever been able to draw from that particular well as prolifically and consistently as Catulle Mendès, and there are only a precious few whose work could be assembled into a kaleidoscopic display of phantasmagorical materials as rich as this one.
CONTENTS:
Introduction

Part I: ANGELS AND DEVILS
Don Juan in Paradise
Angelic Cuisine
Isamberte's Layette
The Tenderness of Justice
An Angel Seeks a Wife
Paradise Refused
The Worst Torture
The Judgment of the Angel
White Snow and Pink Snow
The Fortunate Star
The Guardian Angel
Lost Stars
Baptistine; or, The Three Beds
The Faithful Soul
The Devil's Last-Born
The Prologue to Gog
How the Devil Went Bald
Burned Tears
The Story of the Good Wolf and God's Justice
Premières in Paradise
The Golden Clarion and the Ebony Oliphant

Part II: NYMPHS AND KINDRED SPIRITS
Flowers in the Water
The Sorrow of the Sirens
The Last Sylph
The Grateful Hamadryad
The Banks of the Lethe
Larceny in the Woods
The Sprite of the Swirling Water
The Fortunate End of a Dream

Part III: EROS AND COMPANY.
The Danger of Charity
The Pawnbroker
The Futility of Examples
The Enchanted Chemises
The Way to the Heart

Part IV: INSECTS AND FLOWERS
The Firefly Wedding
Azaleas
The Emperor and the Butterflies
The Ashes of the Rose
The Little Bird, the Pearl and the Rose
A Quarrel with a Rose
Rose to Let
The Avenged Leaves
One of Three Flowers
The Little Girl who Knows Nothing and the Garden that Knows Everything
The Wisdom of the Dragonfly
The Dream of a Day in May

Part V: THE QUEST FOR THE IDEAL
The Pale Sister
The Three Drunkards
The Good Star
Avarice
The Louis d'or the Jewel and the Star
The Key in the Sea
The Soul in the Corner of the Wood
The Cruel and Glorious Alms

Part V: FABLES, APOLOGUES AND ALLEGORIES
The Sacred Tree
Balbine's Heart
Flowers and Precious Stones
The Vanquished Shadow
Hygiene
The Vielle Player
The Black Crystal
Three Kings of Good Fortune
Imperial Patience
Metempsychoses
The Good Excuse
Complicity
The Mildness of the Monster
The Well-Merited Absolution
The Dolor of the Sea
The Impossible Resurrection
The Miraculous Catch
The Bad Clock
The Rose Mass and the Black Mass
The Song of the Mark
The Blood of a Swallow
What Makes Life Worthwhile
Madeleine's Amours
The Name of Everything
The Breath Lost and Found
Wickedness Punished
Contradiction…up to a Point
When She Passes By
The Impatient
The Obstinate Name
Two Birds, a Single Nest
The Impossible Presents
Alms Recompensed
The Imbecile Assassin
The Brambles and Her Amour
The Snowflake
The Excessively Hot Abode
The Atrocious Name
The Voyage Before Dinner
The Plurality of Inhabited Worlds; or, The Anthropophages
Scene in the Hall
The Collector of Dream-Ends
The Opinion of the Image
The Smoke-Merchant
The Vain Exchange of Two Souls
The Best Alms
Cover by Phil Cohen
Published by Black Coat Press in April 2019
ISBN: 978-1-61227-848-3