Sax Rohmer & Fu Manchu - the comics
Updated 8 June 2003

Not Fu but a close relative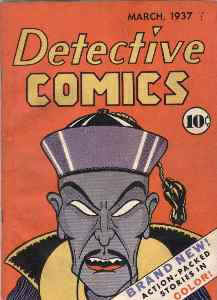 Detective Comics #1
Cover Artist: Vincent Sullivan
Published Date: March 1937
Evidence of the "yellow peril" appeared on the cover of the first issue of Detective Comics. The Batman didn't make an appearance until #27 in May 1939.

The DC Comics Millennium Edition reprint (January 2001) includes the following editorial comment:

"The first thing readers noticed about this new comic book was the sinister Asian gentleman on the cover, drawn by editor Vin Sullivan. The entire issue was full of Asian villains, which one hero refers to as 'real oriental Chinamen.' In that era, such casual racism was not too unusual, and in this case may have come less from personal prejudice than genre conventions. Perhaps the most popular bad guy around in 1937 was Dr. Fu Manchu, the pulp creation of author Sax Rohmer. The writers of this issue, and many other comics and pulp stories besides, were probably imitating Rohmer in the hope of scoring a success.

By 1938, Detective Comics had enough money to license appearances by the real Dr. Fu Manchu for a few issues, but by then the company had launched Superman in Action Comics, guaranteeing its future with a new type of hero that would come to define American comic books."

Two of the stories contained sinister Chinese villains. The villain in "The Claws of the Red Dragon" is obviously based on Fu Manchu but the character remains nameless. Jerome Siegel and Joe Shuster contributed "Slam Bradley" in which the hero saves a girl from being whipped by the minions of Fui Onyui.


"The Claws of the Red Dragon" "Slam Bradley"
---

Fu Manchu appeared in issue #18

Cover Artist: Creig Flessel
Detective Comics # 18, August 1938 with a cover featuring Fu Manchu's lab and a banner suggesting readers "Follow the Gripping and Adventerous story of the Mysterious Dr. Fu Manchu by the celebrated author Sax Rohmer."

This classic series by artist Leo O'Mealia has had three lives. The strips were originally drawn for the newspapers and were distributed by the Bell syndicate from 1930 to 1932. They were later resurrected in the summer of 1938 as a new feature in Detective Comics.
---

The series was resurrected yet again in 1989 by Malibu Graphics

Fu Manchu : Two Complete Adventures by Sax Rohmer. Illustrated by Leo O'Mealia. Introduction by John Wooley; compiled and edited by Tom Mason. -- Newbury Park, CA : Malibu Graphics, 1989. -- 108 p. : ill. ; 17 x 26 cm. -- Comic strips originally syndicated from 1931 (April 20) through the end of 1933. Call no.: PN6728.F77R6. Originally sold for $12.95.

---
The Mask of Fu Manchu.

Wally Wood started his career at Avon Comics in 1950. His early work included Capt. Science, Space Detective and The Mask of Fu Manchu, an "Avon Fantasy Classic" published in 1951.

The entire comic was reprinted as DR. FU MANCHU No. 1, A Top Quality Comic, by I. W. Enterprises, 1964. The covers on the reprint were different from the Avon original, but the interior pages were identical.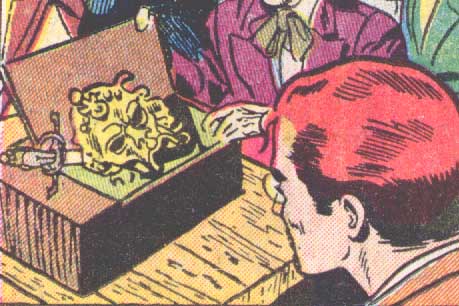 Wood's version of the mask may be compared to the Benda original.
---
The Island of Fu Manchu.

Amalgamated Press Ltd.: London, ca. 1950. Super-Detective Library No. 9. 64 pages. 8d.

Compare to the Finnish comics.

"There is a second British comic in the same series as THE ISLAND OF FU MANCHU.
It was DR. FU-MANCHU, Super- Detective Library No. 17, published by Amalgamated Press in the early 1950s. Script by Rex Hardinge. [I don't know if it was based on a Rohmer source or if it was an 'original' story.]"
-- R. E. Briney, Email (7/10/98)
---
Master of Kung Fu.
Marvel did an entire series about The Hands of Shang-Chi: Master of Kung Fu -- and coincidentally the son of Fu Manchu.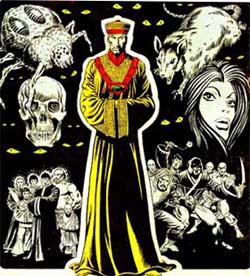 In the early 1970s Marvel Comics acquired the comic book rights to Fu Manchu. They also held the comic book rights to the "Kung Fu" television program, and rather than produce a straight adaptation of either source, the decision was made to combine them. The result was Shang-Chi ("rising of the spirit"), a master of Kung Fu and the (previously unheard of) son of Dr. Fu Manchu. Shang-Chi made his debut in Marvel Special Edition #15 (December 1973). With the following issue (#16, February 1974) the magazine was retitled The Hands of Shang-Chi, Master of Kung Fu and was launched on a run of more than a hundred issues. (Information from "Fu Manchu, Sax Rohmer, and Shang-Chi" by David Anthony Kraft, The Deadly Hands of Kung Fu Special Album Edition #1:1, Summer 1974, pp. 29-33.)
The original series was joined in February 1974 by a black-and-white bimonthly, The Deadly Hands of Kung Fu (which ran until 1977, for a total of 32 issues), then by the annual The Deadly Hands of Kung Fu, and late in 1974 by a Giant-Size Master of Kung Fu. There was also an undated but long-running French-language reprint, Les Mains de Shang-Chi, Maître de Kung Fu, published by Editions Heritage Inc., St. Lambert, Quebec.
The original scripts were by Steve Englehart, with artwork by Jim Starlin. Later Doug Moench took over the writing, and an army of illustrators supplied the artwork: Starlin, Al Milgrom, Paul Gulacy, Dan Adkins, Walt Simonson, Keith Pollard, John Buscema, and Mike Vosburg among them. (Mike Vosburg was a Sax Rohmer enthusiast who also contributed covers and interior drawings to The Rohmer Review.)
Two excellent related sites:
There is an informative discusion of the series at Bring on the Bad Guys: The Villains of Marvel Comics. Fu Manchu is listed with other "Megolomaniac Types."
Master of Kung Fu is also discussed in Hypnosis in Media: Comic Books, a site which explores the use of hypnosis in various popular media.
---

DOPE

Illustrator Trina Robbins brought Dope to the comics as a 53 page story in ten chapters.. The first seven chapters were presented in Eclipse, a black and white comic which was issued every two to four months.. The final three chapters were presented in the first three issues of Eclipse Monthly when the title went to color and was issued on a monthly basis.
Sax Rohmer's Dope, Chap. 1
Eclipse No. 2 July 1981
b&w
4 pages
Sax Rohmer's Dope, Chap. 2:
The Fatal Cigarette
Eclipse No. 3 November 1981
b&w
4 pages
Sax Rohmer's Dope, Chap. 3:
A Star is Born -- and Falls
Eclipse No. 4 January 1982
b&w
5 pages
Sax Rohmer's Dope, Chap. 4:
Pipe Draems
Eclipse No. 5 March 1982
b&w
6 pages
Sax Rohmer's Dope, Chap. 5:
Limehouse Blues
Eclipse No. 6 July 1982
b&w
4 pages
Sax Rohmer's Dope, Chap. 6:
To the Brink
Eclipse No. 7 November 1982
b&w
6 pages
Sax Rohmer's Dope, Chap. 7:
Mollie Gets Amorous
Eclipse No. 8 January 1983
b&w
6 pages
Sax Rohmer's Dope, Chap. 8:
A Visit to Sin
Eclipse Monthly No. 1 August 1983
color
6 pages
Sax Rohmer's Dope, Chap. 9:
Above and Below
Eclipse Monthly No. 2 September 1983
color
6 pages
Sax Rohmer's Dope, Chap. 10:
The Song of Sin Sin Wa
Eclipse Monthly No. 3 [October] 1983
No 3 is numbered correctly on the
cover but mis-identified as "No 2
September" on the inside.

color
6 pages
Sax Rohmer's
DOPE
adapted and illustrated by
TRINA ROBBINS

Chapter Eight
A Visit to Sin

---

London was fog-bound. The choking mist cast its net over [the] city, and in the neighborhood of the docks, its density was extraordinary. Through the gullies of smoke that filled Limehouse navigated Chief Inspector Kerry and Constable P. C. Bryce, seeking the missing actress Rita Irwin, victim of drug addiction, and pawn in the mysterious game played by Kazmah the Egyptian seer, Lola Sin and her husband, the imperturbable Sin Sin Wa, opium smugglers.
The League of Extraordinary Gentlemen

Written by Alan Moore, with quality artwork by Kevin O' Neill

Vol.1 #1 March 1999
Vol.1 #2 April 1999
Vol.1 #3 June 1999
Vol.1 #4 November 1999
Vol.1 #5 June 2000
Vol.1 #6 September 2000

Hardcover: 176 pages ; Dimensions (in inches): 0.61 x 10.49 x 7.01

New York: DC Comics, January, 2001.
ISBN: 1563896656.

The story takes place in 1898. Sherlock Holmes is believed dead after the incident at Reichenbach Falls. Rohmer's Fu Manchu is the villain, but the fun is in recognizing the many other "borrowed" characters: Miss Mina Murray from Stoker's Dracula, H. Rider Haggard's Allan Quatermain, Jules Verne's Captain Nemo, H. G. Wells' Invisible Man, and R. L. Stevenson's Dr. Jekyll/Mr. Hyde. Also appearing are Poe's Chevalier Auguste Dupin, Doyle's Professor Moriarty and Mycroft Holmes, and others.
Jess Nevins has a site with annotations for the many, sometimes subtle, references.

A movie adaptation of The League Of Extraordinary Gentlemen has been cast:
Sean Connery (Allan Quartermain),
Shane West (Tom Sawyer),
Jason Flemying (Dr. Jekyll),
Stuart Townsend (Dorien Gray)
Director : Stephen Norrigton
The League Of Extraordinary Gentlemen Written By : James Robinson
Producers : Mark Gordon and Don Murphy


Comics published in Spain, Finnland and France are listed separately.
Go to the Page of Fu Manchu
Copyright © 1997-2002 Lawrence Knapp. All rights reserved.