Fu Manchu - the cocktail

In his biography of Sax Rohmer, Cay Van Ash described a trip Sax took to Jamaica in 1932. While there, he visited the Myers Rum Distillery. Cay Van Ash describes the occasion:

"Jamaica rum was Sax's favorite drink. In company with Mr. Myers and several members of the staff, he spent the pre-luncheon hour helping to invent the Fu Manchu cocktail. This proved rather difficult, for Sax insisted that it ought to be a mysterious shade of green, but, short of dyestuffs, there is not much which will impart such a color to rum. At the fourteenth attempt they did eventually get it right, but none of them wanted much lunch afterwards. (I understand that this mixture was actually added to the official cocktail list, but I have not been able to find the recipe.)"

Master of Villainy: A Biography of Sax Rohmer. Cay Van Ash and Elizabeth Sax Rohmer. Bowling Green University Press, 1972. p. 210.

Years later, in the first of his Pipe Dreams, he attributed his introduction to Myers rum to a Chinese friend.

Fu Manchu - the cocktail
Fill glass with ice
1 1/2 oz Dark Rum
1/2 oz Triple Sec
1/2 oz White Creme De Menthe
1/2 oz Lime Juice
Dash of Sugar Syrup
Or 1/4 tsp Sugar

Shake

Strain into chilled glass.
The Bartender's Black Book. Second Edition. Stephen Kittredge Cunningham. N.P. 1996.
The Fu Manchu Cocktail is also included in The Fine Art of Mixing Drinks by David A. Embury, in the 'new revised edition' of 1958. The earliest known published recipe was Here's How: A Modern Book on the Cocktail Bar by E. Jackson Barnett a self-published book in 1947.

The Drink-o-Matic web site reports a variation using white rum and a twist of orange.
Fu Manchu - the cocktail
Fill glass with ice
1 1/2 oz White Rum
1/2 oz Triple Sec
1/2 oz White Creme De Menthe
1/2 Oz. - Rose's Lime Juice
1 Dash - Sugar Syrup
1 Twist - Orange

Combine with ice and stir. Strain and garnish with fruit.

Dobbs House Polynesian Restaurants were located in Atlanta, GA, Birmingham AL, Charlotte NC, Dallas & Houston TX, Lexington & Louisville KY, Memphis TN, Miami & Orlando FL. They offered their not-green version of the Fu Manchu on their 1964 Luau Cocktails menu.
| | |
| --- | --- |
| | A sparkling blend of ounce and half Jamaica 8 Year Old Rum, lemon and lime juices. An evil leer, a damsel in distress and you in the rescue. $1.25. |

The New House of Fu Manchu believed (or wanted their patrons to believe) that the drink was "concocted centuries ago."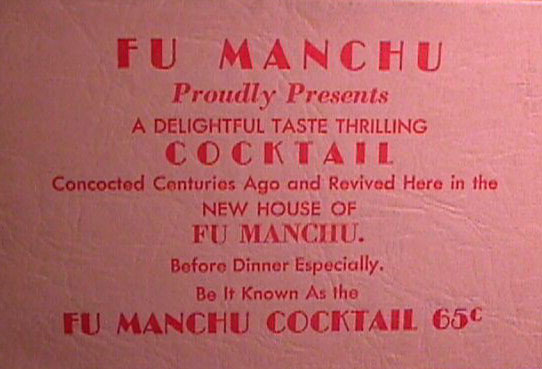 Yet another version was given by Cay Van Ash in an interview.

Go to The Page of Fu Manchu
Copyright © 1998-200
6

Lawrence Knapp. All rights reserved.