Following the publication of President Fu Manchu in 1936, Sax Rohmer began work on a screen play. It was to be set in Egypt and he was creating it with Marlene Dietrich in mind. At least one of the Hollywood studios liked the proposed story and Rohmer was invited to go to Hollywood to complete the script. He didn't go. Cay Van Ash believed it was because Rohmer was afraid he would have an experience similar to "his friend, P. G. Wodehouse, who, not so long previously, had been called to Hollywood and paid to stay there for many weeks, doing precisely nothing" (Villainy 240). Rohmer rewrote the script as a novel and White Velvet was published in New York by Doubleday and in London by Cassell.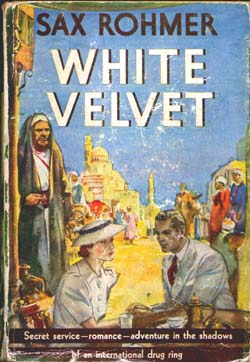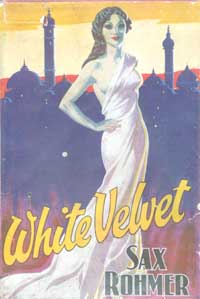 Doubleday Cassell
New York, Doubleday, 1936. First edition, U.S.
New York: The Sun Dial Press, 1937.
New York, P. F. Collier & Son, 193?.
London: Cassell, January 1937. First edition, England.
Second edition: June 1938.
Third edition: September 1939.
Fourth edition: January 1941.
Fifth edition: March 1942.
In 1937, White Velvet was also published as "The Sunday Novel . . . Complete in This Issue" by various newspapers on Sunday, February 28, 1937. The Philadelphia Inquirer cover .is shown. Copies of the Detroit Free Press and Herald Examiner editions are also known to exist. It was, as might be expected, an abridged version of the full novel, but it had a striking cover and eleven interior illustrations by H. E. Snyder.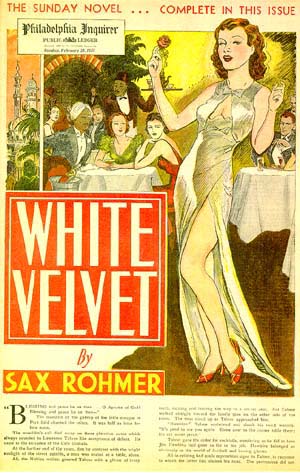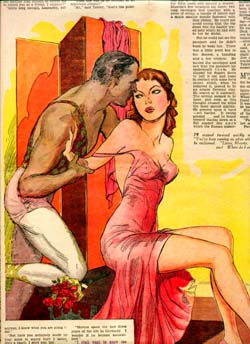 In White Velvet, for the very first time, Rohmer allowed his characters to engage in premarital sex -- to "the marked disapproval of the Bishop of London" (Villainy 294).
Never a movie, White Velvet did go on to become a radio series featured on the B.B.C. from April 29 to July 1, 1940.The series included music and lyrics by Sax Rohmer. Cay Van Ash has written of his "nostalgic memories of the wistful 'Cold As Snow,' which [he] thought particularly appealing" (Villainy 240).