Fu Manchu's Royal Troubadours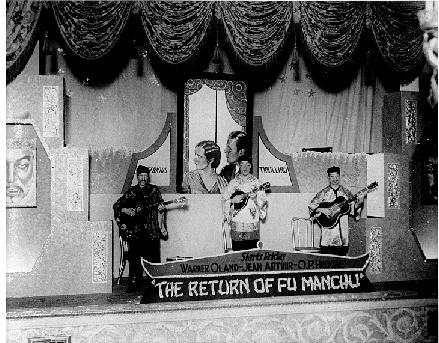 Photograph courtesy of Robert W. Shurtleff and Rudy Cipolla
Rudy Cipolla and the Royal Troubadours wore fake mustaches and rented Chinese costumes at the opening of The Hand of Fu Manchu at the Seattle Paramount Theater. They played mandolin, mandocello and guitar.
Robert W. Shurtleff. "Those Mysterious Mandolins." The Rohmer Review No. 18, Spring/Summer 1981.
Rudy Cipolla, mandolinist and composer, was born ca. 1900. In 1927 he and two friends formed The Royal Troubadors. The trio played at the Paramount theaters in Portland, Oregon, and Seattle, Washington, for three years. In 1930 Rudy moved to San Francisco, where he worked for NBC Radio for eight years as music arranger and composer. Having become disenchanted with the music business, Rudy left NBC and spent several years in a wide variety of jobs. He finally bought and operated the Book Nook, a candy store on Judah Street in San Francisco. During slack periods, he kept in practice with both composing and mandolin playing, gradually moving back into the music world in the early 1970s. He became associated with the Berkeley Mandolin Ensemble in 1975. With members of the Ensemble, he recorded a selection of his own compositions on an lp titled THE WORLD OF RUDY CIPOLLA (Rounder Records #0189) in 1982.

Robert E. Briney (Email June 4, 1998)

---
Go to The Movies of Fu Manchu
Go to The Page of Fu Manchu
Copyright © 1997, 1998 Lawrence Knapp. All rights reserved.