1987 The Fires of Fu Manchu. Cay Van

Ash. New York: Harper and Row


Publishers.
Jacket illustration: Peter Thorpe
"In Loving Memory
of Sax and Elizabeth"
The Fires of Fu Manchu was Van Ash's second Fu Manchu novel. A third novel, set in Paris, was planned but never realized due to his death in 1994.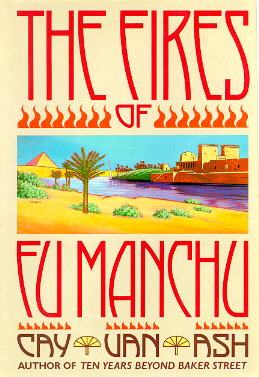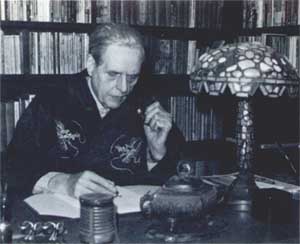 Cay Van Ash was a close friend of Sax and Elizabeth Rohmer. He and Elizabeth wrote Sax Rohmer's biography, Master of Villainy. He was also a frequent contributor to The Rohmer Review. Born in Sussex, England, he lived for a time in London before moving to Japan where he lived for nearly thirty years. He taught at Waseda University in Tokyo.

Once it was decided that the Rohmers would remain in America, it fell to Cay Van Ash to ship their better furniture in storage in England. In doing so he noted "I personally inherited the unique, mosaic-shaded lamp which had stood on Sax's writing desk during our first meeting, and lugged it proudly around the world ever afterwards" (Master of Villainy 277).