Sax Rohmer's Fu Manchu in Popular Music
1 March 2005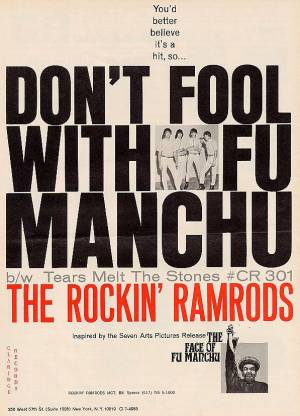 ---
July 8, 1935. "Fu Manchu, Why Don't You Behave?" Guy Lombardo and his Royal Canadians, On The Air, Rare Radio Recordings 1935 - 1936. Radiola/Sandy Hook Records S.H.2023.
---
1943? "Perilous Task" from Drums of Fu Manchu. Paul Sawtell. Cliffhangers! Music From The Classic Republic Films. Various Artists.
---
1965. "Don't Fool With Fu Manchu" The Rockin' Ramrods. Claridge Records CR-301-D. Written by Bob Stone and Warren Schatx. The lable notes the song was "Inspired by the Seven Arts Film 'The Face of Fu Manchu'."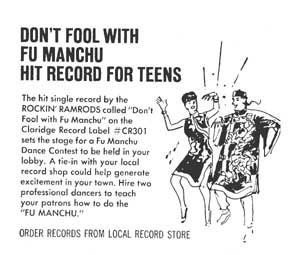 A promotional idea from the pressbook for The Face of Fu Manchu.
Stephen Shutt supplied it for publication in The Rohmer Review No. 13
---
1969. "Drums of Fu Manchu." Headley Bennett. Unity N529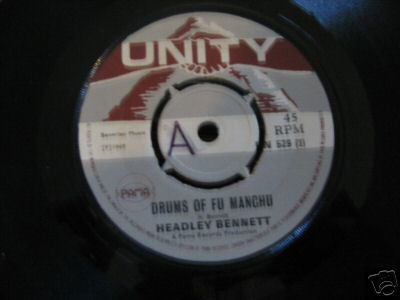 ---
1982. "The Night (La Noche)"(6:08) Side 2 features the track "Fu-Man-Chu" (Instrumental) (4:55) 12" vinyl disc from the group Azul Y Negro released in 1982 on Mercury Records/Madrid (cat.# 64 00 749) Produced by Julian Ruiz, Both tracks engineered by Luis Fdez.
---
?? "Place of Fu Manchu" 45rpm Flip side of "Gimme." Desmond Dekker. Beverly's Records.
---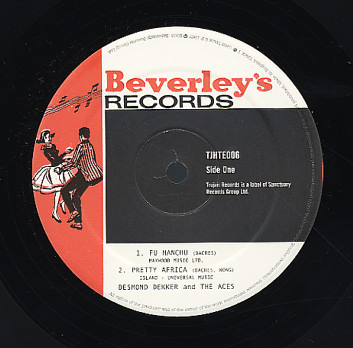 1992. "Fu Man Chu" Desmond Dekker, Rockin' Steady: The Best Of Desmond Dekker. Rhino Records, Inc. R2 70271.
Re-released:
2002, September 24. Israelites (The Best Of Desmond Dekker 1963-1971). Trojan Records.
2003, June 23. Desmond Dekker - Rudy Got Soul.
---
1993, March 9. "Fu Manchu" Frank Black, Frank Black. Label: Electra, CD: CAD3004CD, LP: CADD3004.
"You heard about, A criminal man of virtue, Is there any doubt, His minimal strands would suit you?"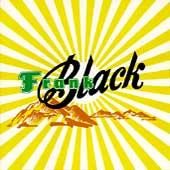 ---
1995. "Funky Fu Manchu" Big Bad Johns. Plymouth Rock. Label: Feralette Records F-95082 Sample
Also: LCM-Highlights Vol. 1 Rock, Country, Dance, Jazz & More. Various Artists. Label: www.LoveCatMusic.com.
---
1997, February 3. "Fu Manchu Theme" I Told You Not to Cry. Gert Wilden and Orchestra. Label: Crippled Dick Hot Wax.
---
2000. "Mysterious Dr. Fu Manchu." (1:34) Jason Willett, Jad Fair & Gilles Rieder. Megaphone label.
---
2000. "Fu Manchu." Wesley Willis & The Dragnews. Never Kill An Ape.
---
2001. "The Chalice Of Fu Manchu." Top Cats. Ska Revolution. Various Artists. Label: East West Japan.
---
2003. "Evil Dr. Fu Manchu" Group: Mohammed. Hyena. Norway. Label: MECCA 666
---
Copyright © 2000-2
0

0

4

Lawrence Knapp. All rights reserved.