Max next appeared in The Golden Scorpion.

This story first appeared in The Illustrated London News, Christmas Number, 1918 as "Complete Sax Rohmer's Novel The Golden Scorpion."

It also saw serial publication in Munsey's from January to May, 1919.

The Golden Scorpion is particularly interesting in that it linked the story lines developed in The Yellow Claw with Dr. Fu Manchu. The antagonist, "The Golden Scorpion," is found to be an agent of Fu Manchu who appears, but is not named.

The Golden Scorpion "wore a plain yellow robe and had a little black cap on his head. His face, his wonderful evil face I can never forget, and his eyes -- I fear you will think I exaggerate -- but his eyes were green as emeralds!"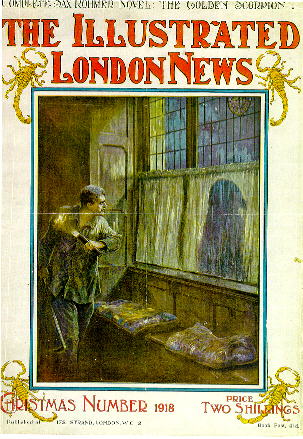 Interior illustrations are available here.