Sax Rohmer in Argosy
28 April 2002
---
Three stories are known to have been published in Argosy.
"The Daughter of Huang Chow" (May 1927). (British edition)
"The Tragedies in the Greek Room" (November, 1929).(U.S. and British editions)
"Death Is My Hostess" (April, 1957). (U.S. edition)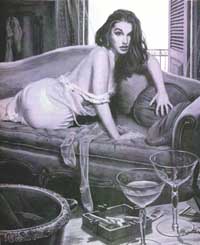 John McDermott's two panel illustration for Sax Rohmer's "Death Is My Hostess"
---
Go to The Page of Fu Manchu
Copyright © 1999-2002 Lawrence Knapp. All rights reserved.