Sax Rohmer in Chums
Updated: 28 May 2003
---
| | |
| --- | --- |
| Chums was a weekly British boys' paper; groups of 4 or 5 consecutive issues were bound together (with a new cover) and reissued monthly. The year's issues were also released in an annual bound volume. Serial installments were printed in an 8-page center section of each weekly issue, paginated separately (with Roman numerals) from the rest of the issue. These serial inserts were included in the monthly reprints, but were generally omitted from the annual bound volumes. | |
Fu-Manchu

Chums (weekly)
Chums (monthly)

The Zayat Kiss
8 Dec 1923 (n° 1630), pp. i-
January 1924
The Clue of the Pigtail
15 Dec 1923 (n° 1631)
Redmoat
22 Dec 1923 (n° 1632)
February 1924
The Green Mist
29 Dec 1923 (n° 1633)
The Call of Siva
5 Jan 1924 (n° 1634)
Karamaneh
12 Jan 1924 (n° 1635)
Andaman---Second!
19 Jan 1924 (n° 1636)
March 1924
The Golden Flask
26 Jan 1924 (n° 1637)
The Spores of Death
2 Feb 1924 (n° 1638)
The Knocking on the Door
9 Feb 1924 (n° 1639)
Fu Manchu and Company
The Wire Jacket
16 Feb 1924 (n° 1640)
April 1924
The Cry of the Nighthawk
23 Feb 1924 (n° 1641)
The Avenue Mystery
1 Mar 1924 (n° 1642)
The White Paecock
8 Mar 1924 (n° 1643)
The Coughing Horror
15 Mar 1924 (n° 1644)
The Silver Buddha
22 Mar 1924 (n° 1645)
May 1924
Cragmire Tower
29 Mar 1924 (n° 1646)
The Firey Hand
5 Apr 1924 (n° 1647)
The Six Gates
12 Apr 1924 (n° 1648)
The Mummy
19 Apr 1924 (n° 1649)
June 1924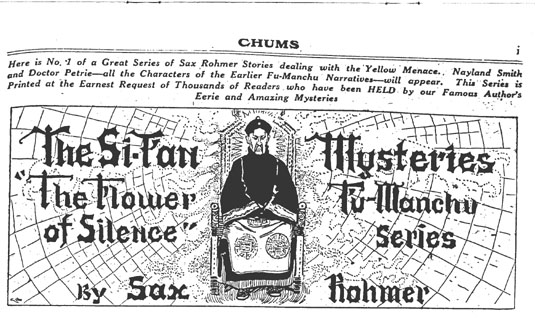 Chums 29 November 1924 Page i of the insert
(from The Rohmer Review No. 15 September 1976)
The Si-Fan Mysteries
The Flower of Silence
29 Nov 1924 (n° 1681), pp. i-v
January 1925
The Si-Fan Mysteries
6 Dec 1924 (n° 1682), pp. i-v
The Golden Pomegranates
13 Dec 1924 (n° 1683), pp. i-iv
The Queen of Hearts
20 Dec 1924 (n° 1684), pp. i-v
February 1925
The Zagazig Cryptogram1
27 Dec 1924 (n° 1685), pp. i-iv
The House of Hashish
3 Jan 1925 (n° 1686), pp. i-iv
Ki-Ming
10 Jan 1925 (n° 1687), pp. i-iv
The Shrine of Seven Lamps
17 Jan 1925 (n° 1688), pp. i-iv
March 1925
A Story of Greywater Park
24 Jan 1925 (n° 1689), pp. i-iv
1 "The Zagazig Cryptogram" was the subject of "ZAGAZIG,"an article by Jeffrey N. Weiss, in The Rohmer Review n° 4. His analysis sparked two responses that appeared in The Rohmer Review n° 5: "The Zagazig Code" by Evelyn Herzog and "Zagazig Revisited" by Julian L. Biggers.
---
The Sins of Severac Bablon
Story No. 1
Thirty Men Who Were All Alike
13 Jun 1925 (n° 1709), pp. i-iv
August 1925
No. 2
The Head of Caesar
20 Jun 1925 (n° 1710), pp. i-iv
The Man from Kimberley
27 Jun 1925 (n° 1711), pp. i-iv
The White Orchid
4 Jly 1925 (n° 1712), pp. i-iv,vi
A Corner in Millionaires
11 Jly 1925 (n° 1713), pp. i-iv,viii
The Turkish Yataghan
18 Jly 1925 (n° 1714), pp. i-v,viii
September 1925
An Official Call
25 Jly 1925 (n° 1715), pp. i-iv
Yellow Cigarettes
1 Aug 1924 (n° 1716), pp. i-iv
Most of the above information was compiled from examination of the actual weekly and monthly issues of Chums. Information from the weekly issues was supplied originally by the late W. O. G. Lofts, literary researcher and authority on British boys' fiction. Later I was able to verify this information by examination of several of the monthly issues. The information about non-inclusion in the annual volumes was supplied by Bill Lofts. In both weekly and monthly issues Rohmer's name was usually mentioned on the cover (often, in the weekly issues, in a "Grand Stories By" box in the upper left corner). The Rohmer stories were in an 8-page center section, which was stapled in as an integral part of the issue, but was separately numbered in lower-case Roman numerals (i through viii). The Chums issue number was printed at the bottom left of the first page of this center section, and the magazine title "Chums" appeared at the top center of each page. This center section was not labeled as a "supplement", and did not carry a separate title.
The Rohmer stories were originally written and published not as serialized novels but as a series of self-contained short stories, and that is the way they appear in the Chums reprints, sometimes explicitly labeled as "a self-contained story". Many of the titles were slightly altered from Rohmer's originals.
--Robert E. Briney
28 April 2003
---
Copyright © 2003 Robert E. Briney and Lawrence Knapp