Sax Rohmer in Blue Book Magazine
---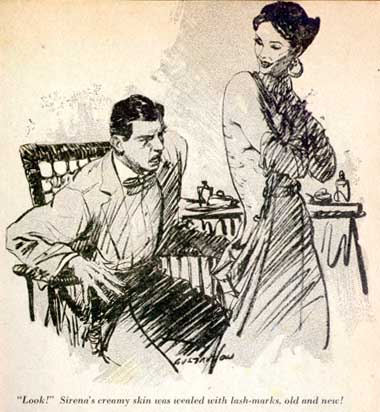 "Look!" Sirena's creamy skin was wealed with lash-marks, old and new!
An L. R. Gustavson illustration for "A Date at Shepheard's"
Blue Book, under the longer name The Blue Book Magazine (published by The Story-Press Corp.), was one of the first American magazines to publish a non-Fu Manchu short story: "The Pigtail of Hi Wing Ho" in 1916. Thirty four years later, as Blue Book (published by the McCall Corporation), the magazine published four additional Rohmer short stories. As they did with many of their authors, the editors included a brief biography of Rohmer in the "Who's Who In This Issue" department on the inside back cover. Typically for this author, the information supplied by Rohmer was embellished for the sake of entertainment--particularly his comments about Harry Houdini.

Who's Who In This Issue: Sax Rohmer
The author of "A Date at Shepheard's" has been a globe-trotter for the past twenty-five years with Turkey, Syria, and Arabia his chosen haunts. Shepheard's hotel is one of his favorites. In fact he's one of the half-dozen individuals who has never been asked to sign a register at this hotel. He has never been given a bill when he departs, but every couple of years the manager sends him a note of his total indebtedness. Sax Rohmer was a close friend of Houdini up until Houdini's death. Houdini credited Rohmer for having developed one or two of his tricks, and Rohmer gave Houdini the credit for having presented him with a solution to two or three of his own mystery stories when he couldn't find the murderer or a rational explanation for the crime himself.
Sax Rohmer is the author of a book called "Romance of Sorcery," which is a recognized textbook on certain phases of magic. He is an authority on occultism. For years he investigated various methods of trying to break the bank at Monte Carlo. Working on a special theory of his own, he success-fully gambled in Havana, Cuba, so that the establishment had to shut down to cover its losses. However, when they opened up again, they had made some change in the roulette wheel so that Rohmer's mathematical formula no longer worked, and Rohmer ruefully admitted he lost all the money he had previously gained. He still believes, however, that enough brains and patience can beat the house assuming that it's honest.
---
The Pigtail of Hi Wing Ho
Later included in Tales of Chinatown
June, 1916
?
A Date at Shepheards
pp. 2 - 7
4 illustrations by L. R. Gustavson.
Later included in The Wrath of Fu
Manchu and Other Stories
October, 1950
Vol. 92, No.3
A Broken Blade
pp. 82 - 83
1 illustration (uncredited, but
probably by Benton Clark).
On the cover, the title is "The Broken
Blade" but the title is given as "A
Broken Blade" on the contents page
and on the story itself.
November, 1950
Vol. 92, No.1
X. Y. Z. Calls
pp. 2 - 7
4 illustrations by John McDermott.
January, 1951
Vol. 92, No.3
Kiss of the Scorpion
pp. 2 - 10
6 illustrations by John Fulton.
June, 1951
Vol. 93, No.2

The last three stories were never reprinted and can be found only in their original Blue Book appearances.
---
Go to The Page of Fu Manchu
Copyright © 2000 Lawrence Knapp. All rights reserved.